I read an article just before about the state of PC Gaming and standardising systems. I found it was an interesting article and got me thinking about two things. One is building my own PC, something I had a friend do a few years ago with my current PC (Which has a wonderful time dancing through games like Crysis which is a system hungry game) and PC Games themselves, and the quality thereof.
When I got my current computer built all those years ago, probably about 3-4 years now, I gathered up a bunch of money and said "Take this and build me a slightly above average PC for the time. It was a good PC and outperformed his own (A small shot to his pride I believe, though he did make it... I liked taht he called it
Beast-09
)
The thing he was irked about was the case. He was adamant that I would need a new Case for my PC. However, I refused. I already had a computer tower and I just wanted it gutted and filled back up because for one, I wasn't going to fork out another $200 for a fancy box, and two, the case that I owned had a very comfortable handle on the top. So if I had to move it around, it was very easy. And three, even if I could get a new case that fulfilled the such needless desire of point 2, I still didn't want to fork out $200+ for a new case.
I was happy with this.
So I had him build it and did it for about $800 with almost the entirety of the internal hardware being refurbished. It was wonderful and it still is. I use it to play the PC games that I do have, and if I purchased any recently I would probably still be able to play it, though chances are that I may need to tone down some details.
Actually I haven't bought a PC game in a few years, so I'm not too sure on that, but I'll be sure to let someone know.
I've been thinking about case mods over the past few months though. I was originally thinking along the lines of my consoles, the Xbox260 and the PS3, but after surfing for ideas I couldn't really get any ideas on what I would want to do to either of my consoles. I'd want something unique so that it's MY console. Not anyone elses. Mine.
I also looked at computer Case Mods too, and there are some really nice ones out there. Some themed around computer games, some hilarious, and some you just laugh at because you're aware what it's a joke of.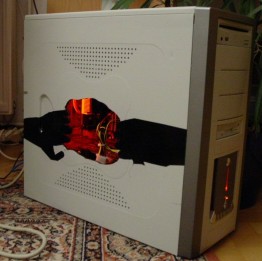 A little while before I started searching case mods, I was also thinking about my "Nerd Hold", the game cave I had thought about at the time. How I wanted game tables and a small lounge in front of a projector or large TV. That sort of thing.
But what I didn't really think about was the Decor of Nerd Hold. In my mind, I kept thinking of something that didn't have much effort put into it. Like a large corner studio apartment with a support pole in the middle of the room, sitting a couple of stories up from the inner city street below visible through the slat windows that went from waist high to the ceiling.
In one corner is the kitchen on a raised level, with oven and a centre table, and either cupboards all around with corner steps leading to each other section. In the opposite corner are the lounges with the TV or top quality projector which is connected to the PC and consoles (naturally). In the windowed corner, a Wargaming table and painting desk, and I forgot what I was going to put opposite that. I think it was a Pool Table.
And apart from the kitchen, the entire thing is cement floor with rugs over them.
But that doesn't sound like a nice place. Sure, it's good enough for Nerds, but what's wrong with doing something nicer? Like I could go for class, and have polished wood floors, desks with leather trims, coffee tables that hide the PC's and consoles and display onto a wood framed television, or a theatre screen flanked by burgundy curtains, and just close enough for the 120* of vision. The kitchen would be as mentioned before, but put it level with the floor. and the inner corner is a Bar. I'd debate taps.
I'd match the Pool table to the theatre with Burgundy felt, and a flourescent light over the top with a wooden cover (rather than the usual metal one finds these days. The Wargame tables would have to be custom made, but something like the pool table without pockets. Like
The Sultan
.
Grain walls and polished floors, I wouldn't be able to get away with it unless I were rich or knew how to build it all myself. Which I don't.
But going back to the subject of Case mods, I had seen several Wooden Case mods which gave me the idea of the room just mentioned, and they were really nice. They could be used as really nice couch side tables.
There's always the idea of using the actual table though as the Computers Case. Given a bit of thought into the internal structure, and some space for air and such, and you'll have a really nice computer blended in with the scenery. Quiet too, as the wood absorbs fan noise and vibration very well.
That's one thing I like about PC's. Though they take up a large amount of space, you can make them look really nice. Alternatively, you can get them as small as a laptop. And while it won't be as powerful as a desktop (debatable), it's still the ability to have something that will do the job and cover as little area as possible.